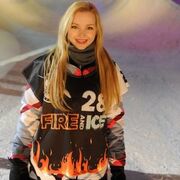 The Fire and Ice Competition is the main Snowboarding event in Cloud 9. It features the best of the snowboarding teams competing to be victorious
The Competition
Edit
During the Competition, Nick Swift exploded on his Dad for fulfilling his dream throughout his son, by pressuring him to much.
Then, the Hotdoggers beat Team Swift, by Kayla's Cloud 9.
The Outcome
Edit
Thanks to Kayla's Cloud 9, the Hotdogegrs beat Team Swift after a hardfought competition.
Ad blocker interference detected!
Wikia is a free-to-use site that makes money from advertising. We have a modified experience for viewers using ad blockers

Wikia is not accessible if you've made further modifications. Remove the custom ad blocker rule(s) and the page will load as expected.